Wednesday December 11, 2019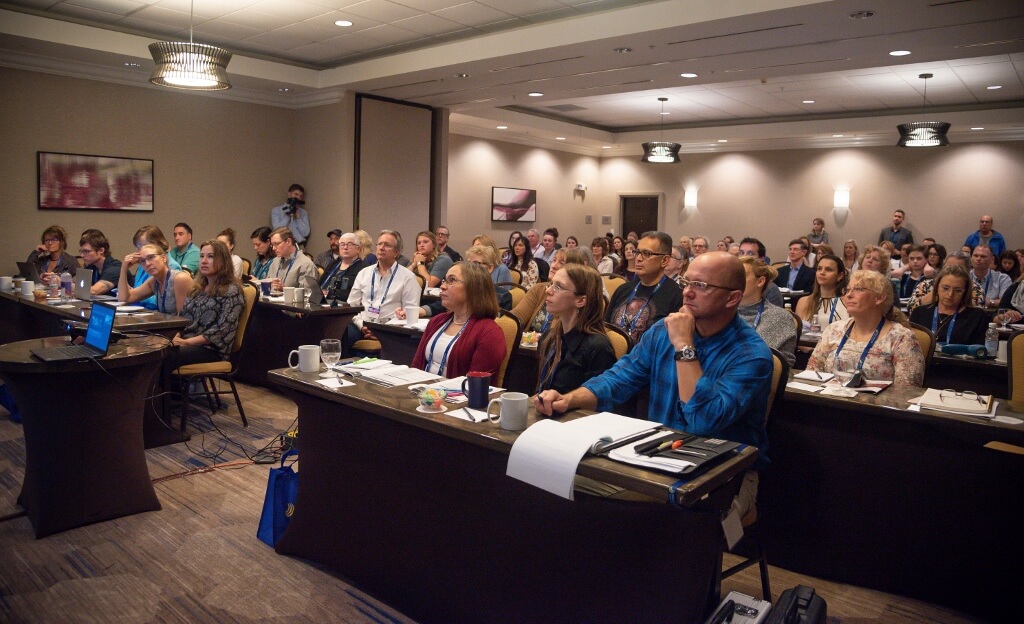 It was quite an enlightening weekend last month for one group of super pulsed laser users.
Physicians and allied health professionals from various disciplines (chiropractors, physical therapists, nurses, veterinarians, athletic trainers and more) from five countries and 22 states convened in Orlando, Florida from Nov. 14-17, 2019, for the flagship Laser Therapy University Symposium: Mastering Priority Principle to Gain Superior Outcomes to learn about low-level laser therapy from world renowned experts, sponsored, in part, by Multi Radiance Medical (MRM).
Laser therapy, also known as photobiomodulation (PBM) and low-level laser therapy (LLLT), uses photons of light to activate many of the body's natural recovery processes. LLLT has been researched and used for over half a century. Results have proven its safety and efficacy as a non-invasive, drug-free, pain relief option which can also accelerate recovery from injuries.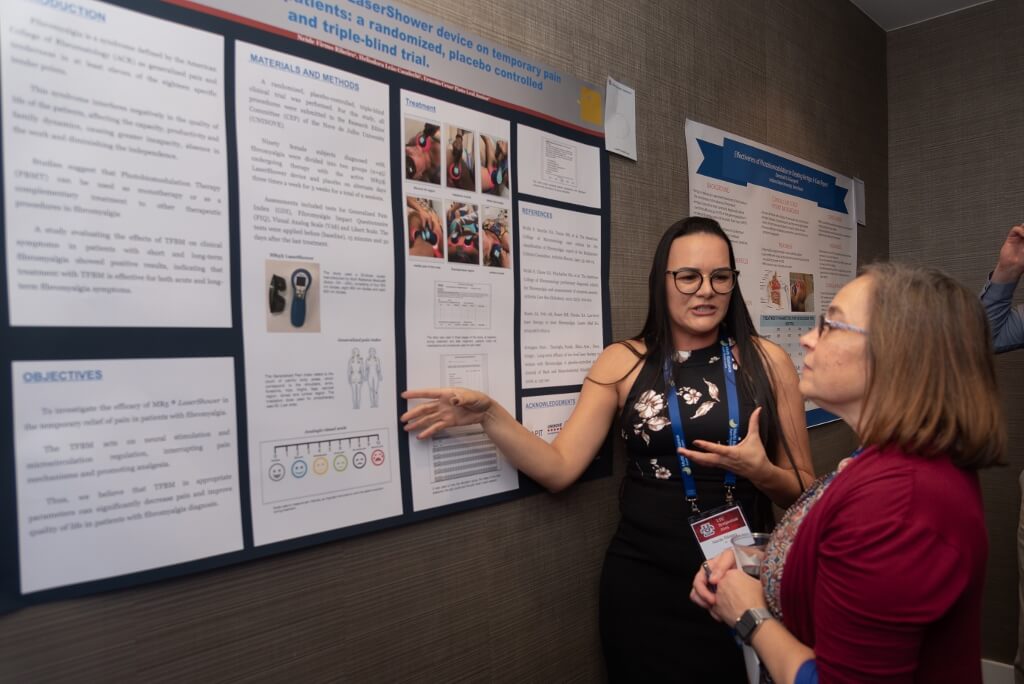 On Thursday, Nov. 14, Laser Therapy University (LTU) kicked off the 3-day event with a Welcome Reception for the group of 100+ attendees and speakers. Over hors d'oeuvres and drinks, attendees had the opportunity to view their peers' work and vote for a winner in the Poster Competition. The seven entries studied the effects of photobiomodulation on strength and performance, vertigo, fibromyalgia and others.
When the ballots were tallied, Carol Machado, Msc. PT, won the Poster Competition for her study: Photobiomodulation on Strength and Performance. A current PhD student at the Laboratory of Phototherapy in Sports and Exercise at Nove de Julho University in Sao Paulo, Brazil, Machado accepted the award and certificate from Douglas Johnson, ATC, EES, CLS.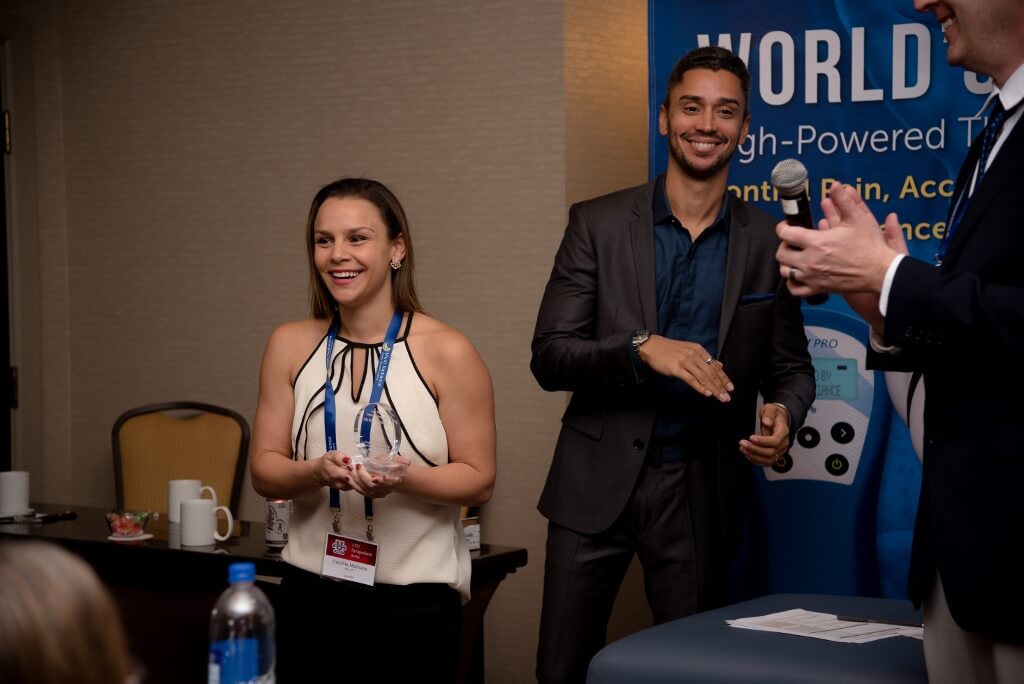 The attendees returned bright and early Friday morning for a full day of clinical and research presentations. Topics covered included the biological effects of PBM, speeding up recovery with the Rescue Protocol for acute injuries, and the methodology cited in the Symposium namesake: The Priority Principle.
The Priority Principle is a dynamic methodology used for integrating laser therapy into clinical practice by prioritizing the current physiological and functional needs of the patient. The application of the appropriate dose and technique deliver the maximal phototherapeutic response with consistent and reproducible patient outcomes. For example, swelling or edema is an element of Priority #1 and should be treated using the 1,000-3,000 Hz setting on an MRM laser for 1-2 minutes. Once swelling has subsided, the clinician can move to the next step in the Priority Principle, and so on. This fundamental principle of laser therapy allows professionals in both human and veterinary medicine to easily work through any condition or case, after a diagnosis has been reached.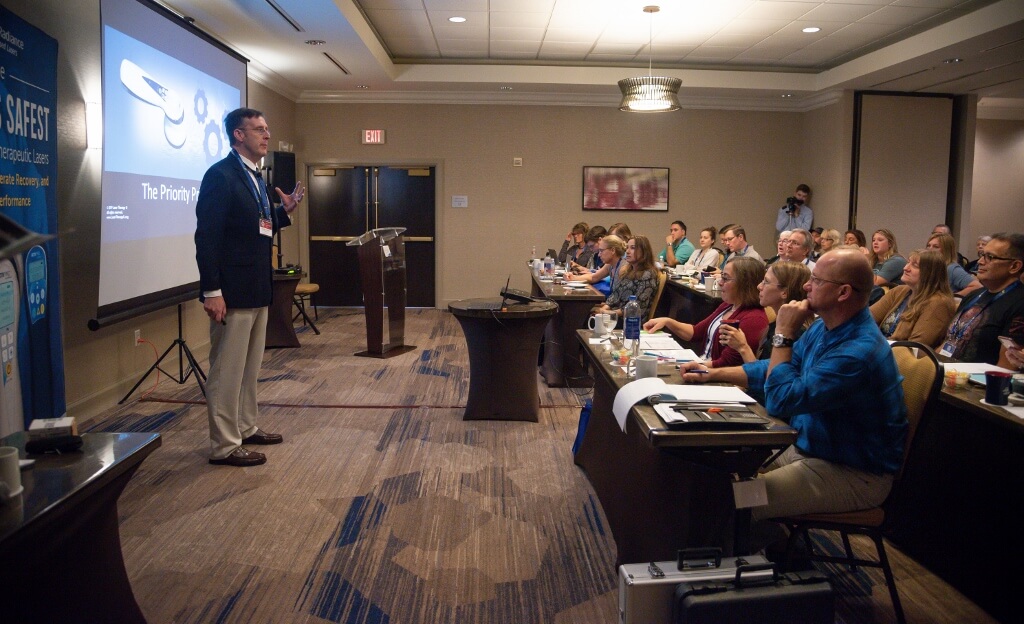 Saturday, Nov. 16 began with talks on laser dose, increasing circulation, range of motion, and research on improving exercise performance. After lunch, the room split for Breakout Sessions related to human medicine or veterinary medicine.
In the Veterinary Breakout Session, speakers showcased how they used photography and video to document progress in cases and then share those results with clients and other vets. Marlene Siegel, DVM spoke first during the Veterinary Breakout Session and shared striking pictures and videos of her successful case stories. These featured dogs and cats recovering from debilitating arthritis, kidney failure, and a recurring eye tumor, just to name a few.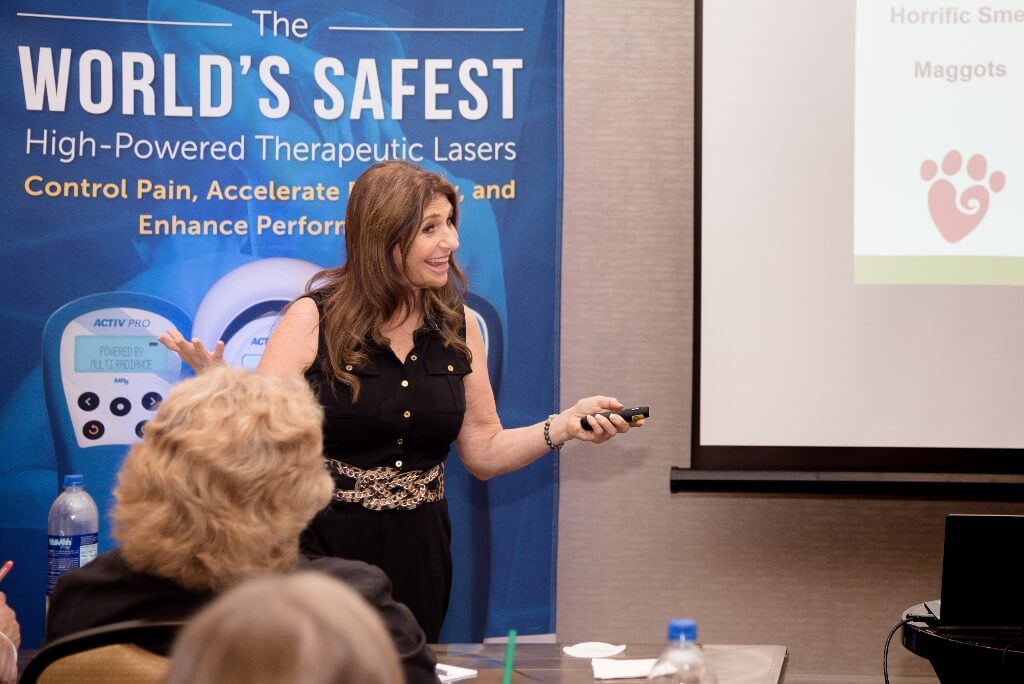 Over at the Human Breakout Session, the speakers touched on several topics and shared case stories and results. Christopher Carraway, DC, DIBCN, CLS, NRCME, and Timothy Demchak, PhD, ATC, presented research on treating the sphenopalatine ganglion – a bundle of nerves located behind the nose – to treat vertigo and migraines, while Brian Fitzpatrick, DC, CLT, recounted how using laser therapy before and after his own wisdom tooth surgery allowed him to get back to work only 26 hours post-op.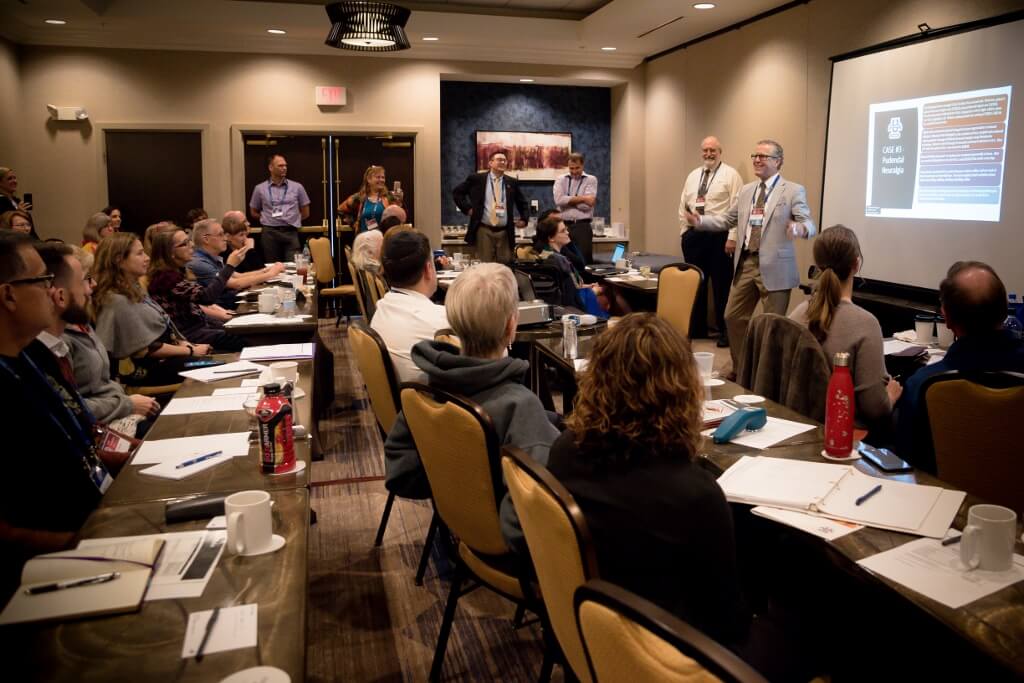 Saturday's courses concluded with a panel discussion Q&A with all experts and speakers. The next morning, attendees took a written exam and then worked directly with the speakers to take a practical exam to assess their laser application skills. 
After completing both exams, attendees were awarded two certificates: a certificate of attendance from LTU, and a certification of completion in the use of Multi Radiance lasers from MRM.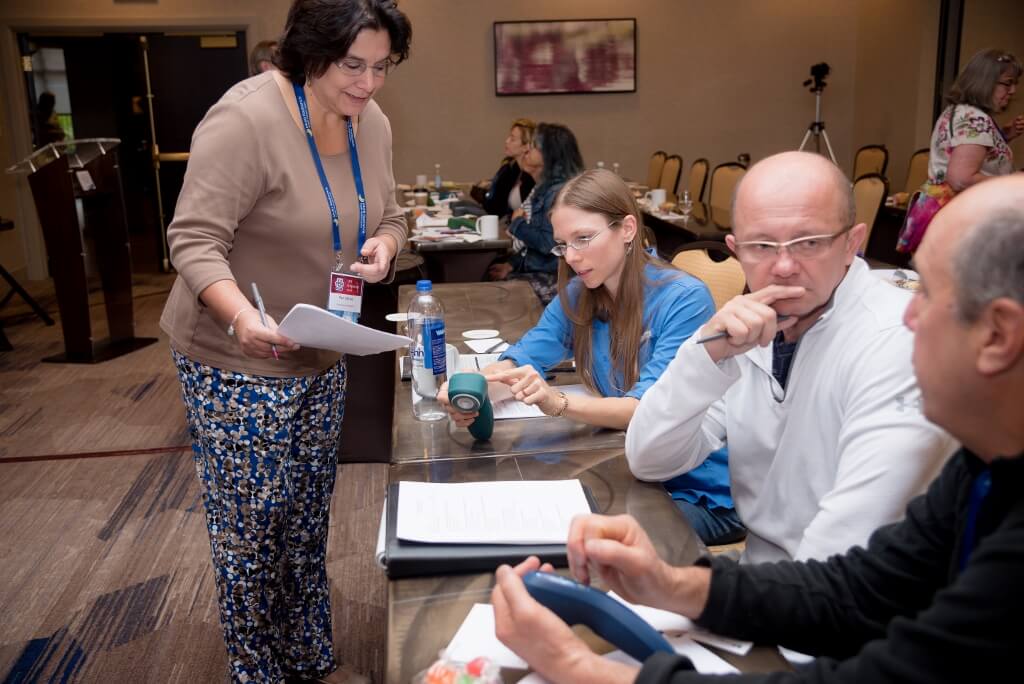 Guests then heard the final presentations and case studies on topics like dystonia and epicondylitis. In her presentation on equine pre-performance treatment, Jaime Collins, Para CVP, CESMT prepped the veterinary group for a 3-hour outside excursion to a local barn where they would do hands-on work on live horses.
In their closing remarks, the LTU team thanked attendees and speakers for their participation and wished them well in their laser therapy endeavors.
"You made it through 22 hours of education, you've taken the test and gotten certified, I know you've got this," Johnson said. "Go back to your practices next week with the confidence that you know what to do and you can treat anything that comes your way."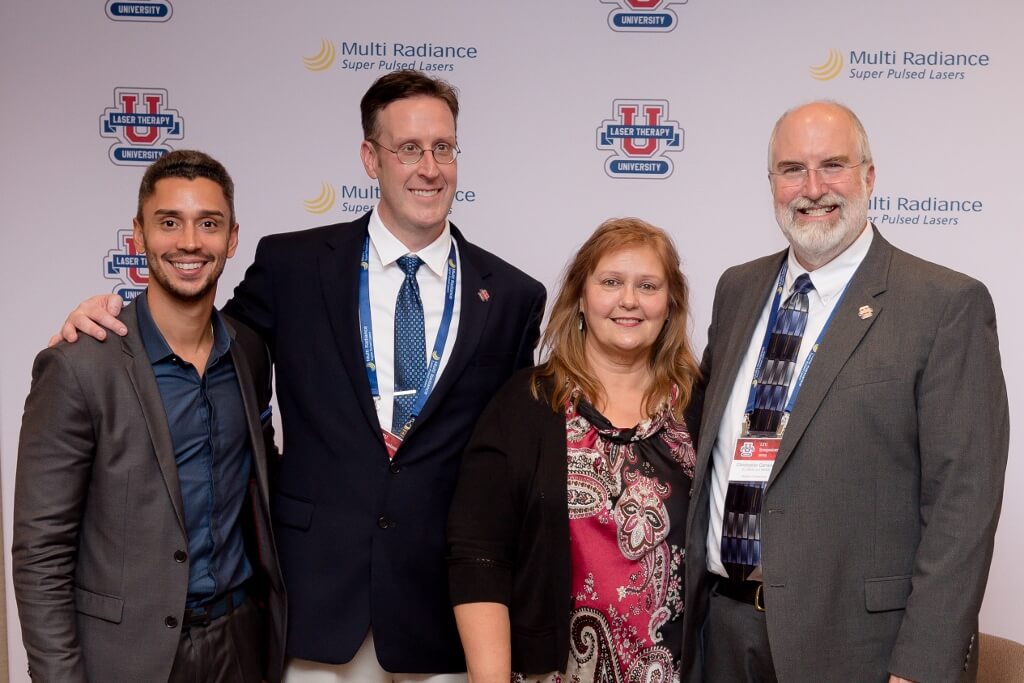 LTU Symposium 2019 Chairs, L to R: Leal Junior, Johnson, Schumacher, Carraway
Attendees reflected on all they learned in just 3 days' time, across disciplines.
"I really enjoyed learning how photobiomodulation works on the first day, and then working through the case studies the second day and getting tips and tricks from the doctors and their current cases and patients," said Meredith Pritchard, RMT. "It was also great to see the veterinary side too, because we do work with human patients, but everybody has animals in their life, so being able to see the crossover between the two sides was very interesting."
Others emphasized how they can apply this new knowledge as soon as they get back to the office.
"I've already got a list of patients in my mind now that I want to bring in to try the laser," said Bradley Kennedy, DC. "Having this concentrated time to work through the research and application of laser over a few days, plus the side conversations with other attendees and doctors, has been very valuable. You learn as much in the hallways talking to others as you do in the formal lecture."
Overall, LTU was pleased with the event's success. "It's very apparent that all attendees are extremely enthusiastic about laser therapy, and we're so thankful for their kind words and appreciation over the last couple days," Robin Schumacher, Director of Education remarked. "We hope they take what they learned and start applying it on Monday!"
The MRM team was also delighted by the turnout and interest in the Symposium. "We always strive to provide the highest quality education to our users through LTU so they can get the best possible outcomes, and I believe we've done just that here," said Mark Reiter, MRM Field Sales Manager.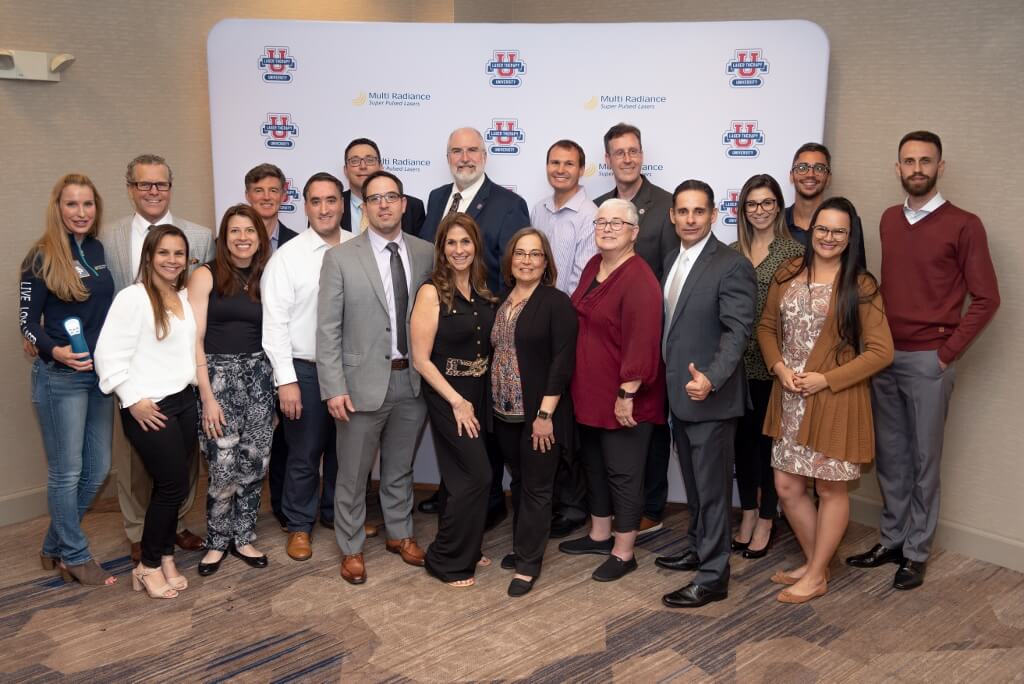 Throughout the weekend, LTU and MRM honored several speakers and staff with special awards for their contributions to the advancement of PBM therapy: LTU Symposium Master of Ceremony, Christopher Carraway, DC, DIBCN, CLS, NRCME; Brian Fitzpatrick, DC, CLT; Ernesto Leal Junior, PhD, MSc, PT; Robin Schumacher, LTU Director of Education and Symposium Coordinator; Marlene Siegel, DVM; and Brent Ungar, DC, CCSP.

Super pulsed laser owners can learn more about laser therapy through the many protocols, videos, webinars and research on LaserTherapyU.org, or call Multi Radiance Clinical Support at 800-373-0955, M-F 9 a.m.-5 p.m.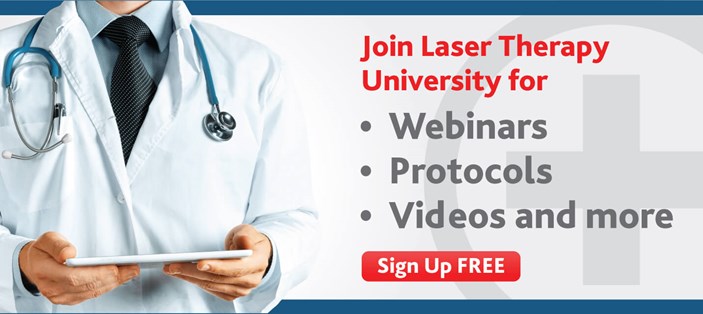 Photo credit: Bits and Peaces Photography by Judy Lombard