Wednesday September 22, 2021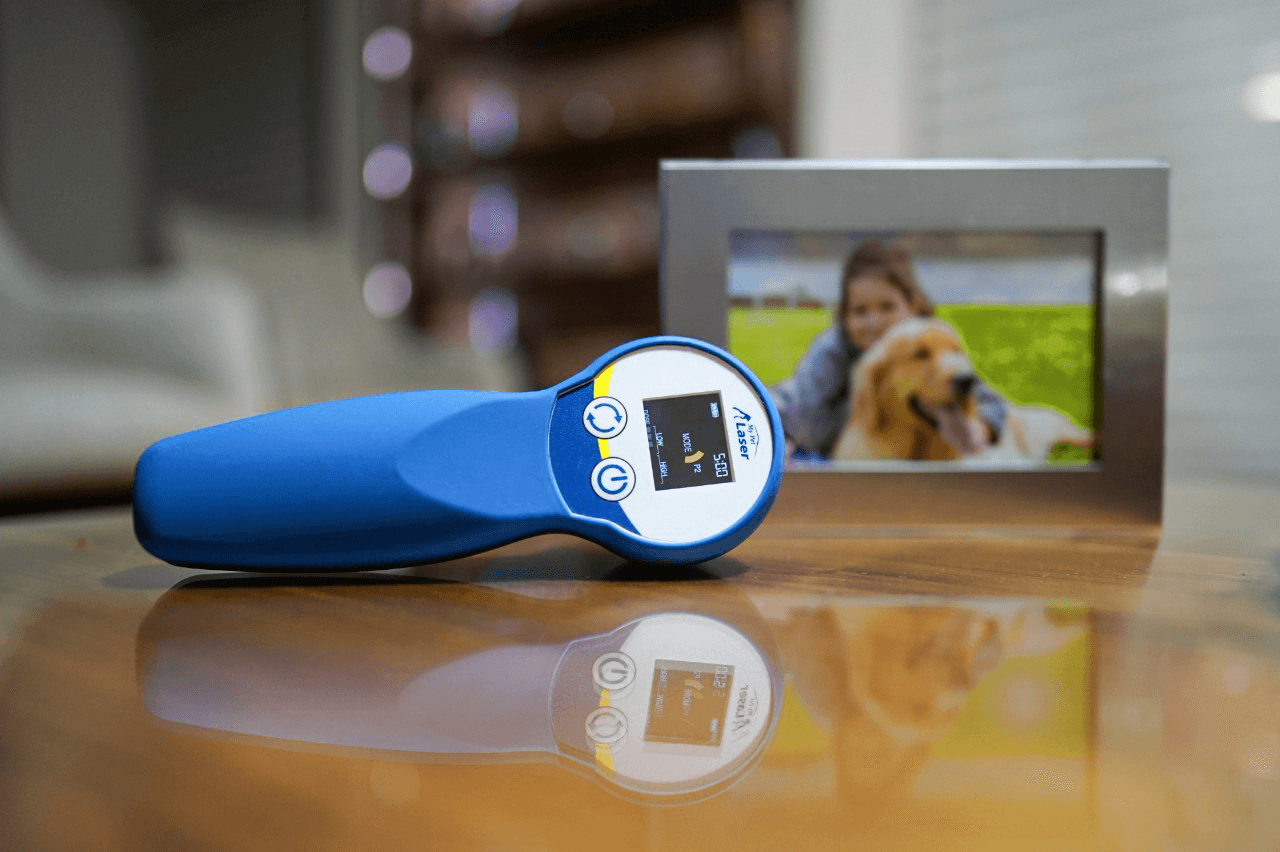 By Douglas Johnson, Multi Radiance Senior VP of Clinical and Scientific Affairs
This article originally appeared as an Education Center feature in the September 2021 issue of Veterinary Practice News.
In 2014, Multi Radiance Medical, a laser therapy company known for peer-reviewed studies and safe high-powered lasers, launched the My Pet Laser as an answer to veterinarians and pet owners looking for an at-home laser therapy solution. Veterinarians knew that dogs, and especially cats, needed continuity of laser treatments for chronic pain,1 inflammation,2 and arthritic3 conditions. Most high-powered therapeutic lasers could only be used in the clinic by the veterinarian or staff.4
The handheld, portable My Pet Laser is FDA-cleared safe for use in the home, and the simple settings make training and administration easy for the pet owner under the veterinarian's direction. Clients and veterinarians saw immediate pain relief and, therefore, happier pets with this convenient care option.
As curbside service and distancing became the norm, the need for portable, at-home treatment options became even more apparent. Many veterinarians were able to extend care into the home by renting the My Pet Laser to clients who could not make it to the clinic for multiple treatments.
After revolutionizing at-home laser therapy, Multi Radiance Medical continues to innovate with the new and improved My Pet Laser 2.0, featuring more power, more features, and a new bright screen to make it even easier to provide quality care and pain relief to pets.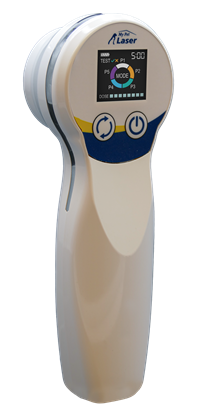 From the clinic to the home
Laser therapy has grown rapidly over the last 20 years from the multidisciplinary approach to scientific discovery across many clinical boundaries. New studies and publications have validated the effects of light to manage chronic arthritis, improve post-surgical healing, and repair tendon and ligamentous injuries.
Laser therapy has moved from an alternative or complementary therapy to mainstream adaptation in rehabilitation to expansion in dental and preventative care. The application of light therapy associated with surgical operative procedures has been rising in importance to help decrease cell death and reduce wound dehiscence with pre-surgery application; during the operation to modulate the inflammatory process; and post-operatively to reduce recovery time and modulate pain.
Veterinarians often use laser therapy to treat these conditions solely in the office; high-powered laser therapy devices are not equipped to be utilized outside the veterinary practice due to regulatory controls, safety issues, and bulky, corded designs with complex operation requiring training and expertise outside the scope of most end users.
The limitations of clinical laser therapy led Multi Radiance to introduce and then enhance the My Pet Laser, allowing veterinarians and pet owners to provide the best outcomes to pets with a convenient, at-home device.
Enhancing at-home laser therapy for pets
The new My Pet Laser 2.0 is a portable, cordless, rechargeable Class 1 super pulsed laser featuring three times the power of the original, more treatment programs, and a color LED display with high and low dose indication lights.
The My Pet Laser 2.0 includes pre-programmed modes to manage inflammation, pain, acute trauma, and post-surgical and injury healing. The prescribed dose and dosage of the light simplifies the owner-delivered laser therapy. This eliminates the needs for extensive protocols and programming and makes treatment easy as the press of a button.
Utilizing its extensive research, Multi Radiance enhanced the My Pet Laser to benefit veterinarians, pet owners, and pets in the following ways.
Pain relief in the palm of your hand
Mobile technology is assisting with chronic disease management, extending service to underserved areas, and improving health outcomes. Higher-powered therapeutic lasers can only be used in corded, desktop models, making them more suitable for clinic-only use. Portable laser therapy devices can deliver all the power of a corded version with the added flexibility of remote treatment.
The My Pet Laser 2.0 is cordless and lightweight for easy at-home laser therapy treatments. The rechargeable battery lasts for up to 8 hours of continuous use on a single charge, and with most treatments lasting 5 minutes or less, a single charge could last a couple of weeks.
More power, same safety
Light creates heat as a byproduct of absorption. Accumulating heat can be an issue with high-powered devices; this is often reduced by scanning or distance scanning. Super pulsed laser works differently than traditional high-powered lasers.
By generating extremely high-powered bursts of light at billionths-of-seconds durations, heat is not transferred to the surrounding tissue and light energy passes the dermis much more efficiently to reach deeper tissue. This means the device can be held in direct contact with the skin without worry of overheating even when dealing with dark pigmented animal skins. This type of laser has the safest FDA/OSHA classification and is also eye safe. This means that both the pet and operator are not required to wear safety goggles.
The My Pet Laser 2.0 features three times the power of its predecessor while maintaining the same safety classification, leading to faster treatment times and decreasing healing time for injuries – and reducing the burden of patient care for the veterinarian and the pet owner.
Built-in settings and protocols
The greatest improvement in delivering effective at-home laser therapy was the establishment of photoceutical-based care. A dose refers to a specified amount of medication taken at one time. By contrast, the dosage is the prescribed administration of a specific amount, number, and frequency of doses over a specific period. By validating the dose and dosage through research, the procedure of administering the optimal dosage of light energy to a target tissue that yields the desired effect with minimum side effects can therefore be deemed a photoceutical. Rather than the device solely emitting light, dosages can be pre-programmed into devices that are specific to indications, such as arthritis, pain, or healing.
The My Pet Laser 2.0 features additional pre-programmed treatment settings to make it easy for the pet owner to administer laser therapy to the pet at home, under the veterinarian's direction. The color LED screen allows for easy treatment mode selection, displays the dose, counts down treatment time remaining, and displays battery life.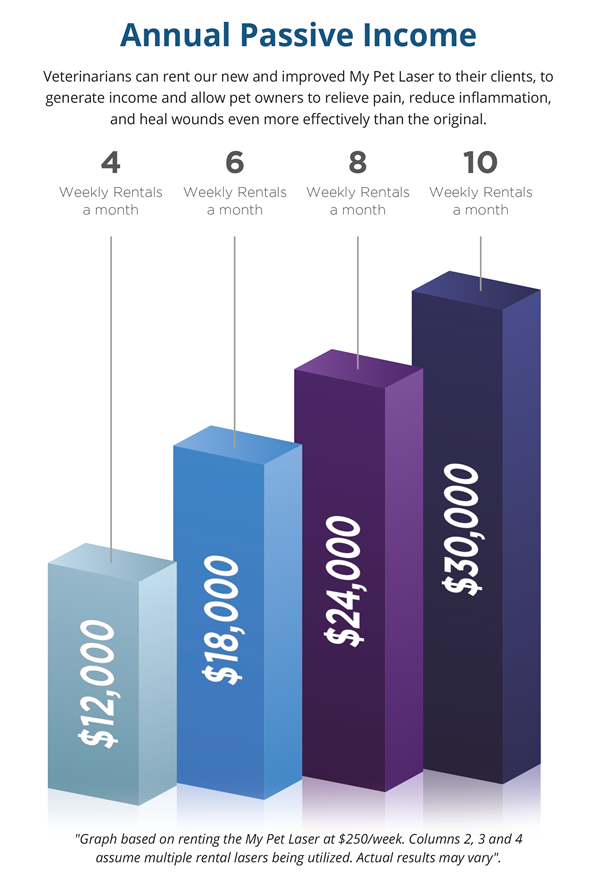 Starting a rental program
The portability, safety, ease of use, and effectiveness of the My Pet Laser 2.0 make it ideal for a laser therapy rental program. The veterinarian creates a custom treatment plan for the pet, then rents the My Pet Laser 2.0 to the pet owner for a weekly fee. The pet owner then administers the laser therapy to the pet in the comfort of home – no more frequent (and often stressful) visits to the clinic. The pets continue to receive therapy and heal without stress, and the veterinarian generates passive income on the rentals – a win-win-win situation for all involved.
How does it work? The science behind laser therapy
Beneficial and successful laser therapy outcomes are based upon delivering the correct dose of light energy. The various irradiation parameters (wavelength, power, irradiance, and pulse parameters) need to lie within certain ranges and be applied for a suitable amount of time. It has been found that greater doses of light are not necessarily better than lower doses of energy. For laser therapy to be effective, the treatment needs to be applied several times (between one and ten treatment sessions) at intervals ranging from twice a day to three times weekly. If the wrong irradiation parameters or time are utilized, the treatment will be ineffective and likely to not have a significant effect.
Understanding the dose response allows for the design of larger, translational clinical trials that utilize the identified optimal parameters (wavelength, dose, treatment interval, etc.) to validate laser therapy for specific indications. A biphasic dose response has been frequently observed where low levels of light have an improved ability to stimulate and repair tissues and higher levels can modulate pain responses by inhibition. The abundance of "positive" doses can be attributed to the fact that a range exists for both stimulation and inhibition that are influenced by power output, thermal profile, and depth of penetration.
The result seen is often puzzling because laser therapy can be used to stimulate and inhibit the same biological response based upon dose. Subsequently, these effects are not obvious; therefore bench and clinical testing and observation of the therapeutic response are necessary to understand these effects.
Conclusion
Laser therapy continues to gain popularity for its use treating pain, inflammation, wounds and more in the clinic. While high-powered therapeutic lasers remain bound to in-office use, Multi Radiance Medical's My Pet Laser 2.0 offers a way for pet owners to administer laser therapy safely and easily to pets in the comfort of home.
Featuring more pre-programmed treatment settings, a color LED screen, rechargeable battery, and three times the power of the original, the new My Pet Laser 2.0 is a powerful, safe, and convenient way for pet owners to help pets heal. Veterinarians also reduce the burden of patient care and earn passive income by renting lasers for use at home. Veterinarians should consider offering the My Pet Laser 2.0 to provide safe, effective, and convenient healing for pets and pet owners.
Interested in adding the My Pet Laser 2.0 to your veterinary practice offerings? Request a quote for the My Pet Laser 2.0 today.
References
Leal-Junior EC, Johnson DS, Saltmarche A, Demchak T. Adjunctive use of combination of super-pulsed laser and light-emitting diodes phototherapy on nonspecific knee pain: double-blinded randomized placebo-controlled trial. Lasers Med Sci. 2014;29(6):1839-1847. doi:10.1007/s10103-014-1592-6

Tomazoni SS, Costa LOP, Joensen J, Stausholm MB, Naterstad IF, Ernberg M, Leal-Junior ECP, Bjordal JM. Photobiomodulation Therapy is Able to Modulate PGE2 Levels in Patients With Chronic Non-Specific Low Back Pain: A Randomized Placebo-Controlled Trial. Lasers Surg Med. 2020 Apr 24. doi: 10.1002/lsm.23255. Epub ahead of print. PMID: 32330315.

Vassão, P. G., Parisi, J., Penha, T. F. C., Balão, A. B., Renno, A. C. M., & Avila, M. A. (2021). Association of photobiomodulation therapy (PBMT) and exercises programs in pain and functional capacity of patients with knee osteoarthritis (KOA): a systematic review of randomized trials. Lasers in Medical Science, 1-13.

Zohuri, B. (2021). High-Power Laser Energy. In Thermal Effects of High Power Laser Energy on Materials (pp. 1-25). Springer, Cham.