Parker University Enhances Student Education with Multi Radiance MR4 Laser Devices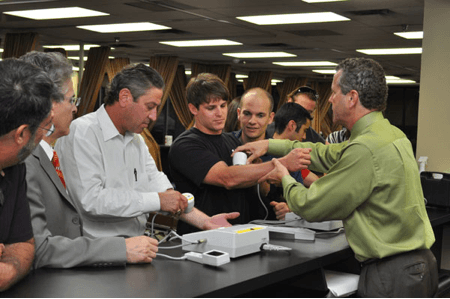 June 2, 2011 – (SOLON, Ohio) – Multi Radiance Medical, an international medical device company, is pleased to announce that Parker University is using Multi Radiance Medical's MR4 laser devices in educational and clinical settings.
"Partnerships like this are extremely important to us because it gives our students the chance to work with cutting-edge equipment like Multi Radiance Medical's lasers," said Dr. Fabrizio Mancini, President of Parker University.
Max Kanarsky, President of Multi Radiance Medical, states, "Our association with Parker University is important to Multi Radiance Medical. As they teach tomorrow's chiropractic leaders, it is exciting that they chose MR4 laser equipment to be used by the faculty and students. We look forward to an ongoing relationship with Parker University."
"The lasers will further expand our students' educational experiences in both the academic and clinical settings," said Dr. Ken Thomas, Vice President of Academics at Parker University.
Dr. Brent Ungar instructed Parker University faculty and students on the MR4 laser devices. The training focused on how the university can make the most of their laser treatment equipment so that they can treat a wide variety of patient conditions via this easy-to-use, safe, natural and effective technology.
"The hands-on training our students received from Multi Radiance Medical was excellent," said Dr. Juan Sanchez, Director of External Programs at Parker University. "It provided opportunities for the students to ask questions, become familiar with the laser, and learn more about how it can help their patients."
About Parker University
Parker University, formerly known as Parker College of Chiropractic, is located in Dallas, Texas and is one of the world's leading educators of healthcare professionals. Founded in 1982, this private, non-profit educational institution prepares men and women to become doctors of chiropractic. In addition, Parker University awards Bachelor of Science degrees in anatomy and health and wellness, massage therapy certificates, and continuing education specializations and certifications.
About Multi Radiance Medical
Multi Radiance Medical located in Solon, Ohio is a leading medical device company that develops and manufactures FDA-cleared laser equipment using super pulsed laser technology, for the temporary relief of acute/chronic pain, muscle stiffness, arthritis, muscle spasms, and other conditions. Its LaserStim™ with TARGET technology is the first FDA-cleared device to combine laser light and electrical stimulation. Multi Radiance Medical has served rehabilitation, chiropractic, sport medicine and veterinary markets for 20 years and is in more than 30 countries.