COVID-19 Update from Multi Radiance Medical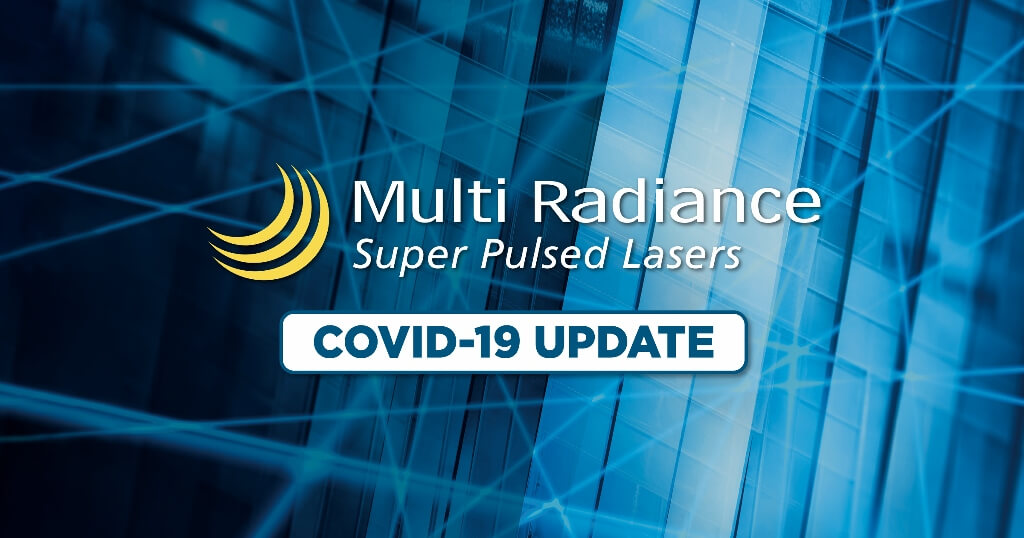 UPDATE: As of May 18, 2020, Multi Radiance Medical will return to its normal operating hours: Monday through Friday, from 9 a.m. to 5 p.m. EST.
March 24, 2020 (SOLON, Ohio) - On Sunday, March 22, 2020, Amy Acton, M.D., MPH, Ohio Department of Health Director, and Ohio Governor Mike DeWine, announced a state-wide "stay-at-home" order, or shelter in place order, to help prevent the spread of COVID-19 (coronavirus). The order, put in place through April 6, 2020, instructs residents to stay at home with some common-sense exceptions, and non-essential businesses must close.
Starting Tuesday, March 24, 2020, Solon-based Multi Radiance Medical will remain open with daily hours adjusted to 9 a.m.-3 p.m. EST.
We are pleased to continue to fully serve our current and prospective customers. At this time, we encourage you to utilize the following resources from Multi Radiance:
Bridge the current care gap with a laser rental program: My Pet Laser or PainAway Laser
Contact Customer Service toll-free at 800-373-0955 for questions on sales, products, service or technical support
Request online demonstrations for any Multi Radiance Super Pulsed Laser device on multiradiance.com
Contact Us online any time with any questions or concerns
Learn proper disinfecting techniques with our new Laser Cleaning Guide
Watch special webinars on using laser therapy in your practice during COVID-19
Access laser therapy webinars, videos, research, protocols and more on LaserTherapyU.org
Ask the Expert to speak to a laser therapy expert on protocols or tough cases you may experience
Watch laser therapy videos on our website or on YouTube
Read about laser therapy topics in the Multi Radiance blog
We greatly appreciate your patience as we work through this uncertain time. We know pain doesn't stop just because the rest of the world seems to, and we are grateful for the opportunity to continue supporting you and your patients. I will let you know as soon as possible if there are any updates or changes.
From the entire staff at Multi Radiance, thank you, and we wish you the best of health during this challenging time.
Sincerely,
Max Kanarsky, Multi Radiance Medical CEO