The revolutionary new line-up of Multi Radiance therapy lasers provides the right laser therapy tool for every clinical need; including acute pain, tissue repair, and at-home patient care. Multi Radiance introduces the new ALPHA Laser Therapy System, the anchor of your laser therapy program. The Class IV ALPHA provides effective pain relief and recommends the right laser settings to achieve optimal clinical outcomes for every condition to ensure you get consistent results—every time.
50 million adults in the USA suffer from chronic pain. Healthcare providers have been searching for non-pharmacological treatments for pain to combat the opioid crisis and provide patients with relief. Photoceuticals have emerged as a drug-free, non-invasive solution to pain.
A Photoceutical Approach to Complete Laser Therapy Care
A non-invasive, drug-free, complete laser therapy approach to care
What are "photoceuticals"? A new theoretical perspective has emerged that considers light energy as a form of medicine and the administration of light should be prescribed in the same manner as pharmaceutical interventions. That is, the composition, the dose and the dosage of the light must be defined.
When taking into consideration the photoceutical approach, the understanding that light is comprised of different and unique wavelengths of varying energies underpins how the desired biological effects are observed following light exposure. Photoceuticals are validated through clinical studies and use light in a specific dose to produce safe, and reproducible outcomes. Advancements in laser therapy have led to the development and use of photoceuticals to reduce, or in some cases, eliminate the need for NSAIDs.
Through scientific investigation, we can now optimize those desired biological effects to provide photoprotective, photochemical (repair and immune response), photophysical (analgesia) or thermomechanical (regenerative) tissue responses. An ideal photoceutical device delivers optimal doses of light energy using a combination of curated wavelengths, administered at the correct dose (time and power), and the ideal dosage (frequency of application) resulting in consistent, reproducible outcomes. These targeted treatments improve quality of life and provide non-invasive options over the span of a patient's plan of care, and life.
From Quick Pain Relief to Tissue REPAIR and Long-Term Care
The Right Technology for Every Stage of Care
You have different goals for your patients at each stage of care. The Laser Therapy Continuum of Care provides you with the right non-invasive tools in your laser therapy toolbox to meet your clinical goals throughout a complete plan of care.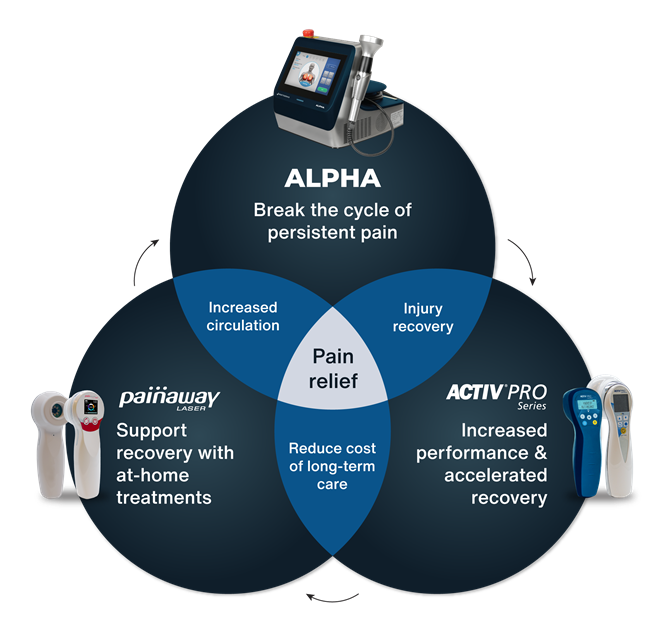 The right tool in the laser therapy toolbox for every patient, and every stage of care
ALPHA
High powered class IV laser device for quick pain relief, includes Multi Radiance's proprietary Priority Principle technology to optimize outcomes based on patient symptoms. The ALPHA acts as the anchor of your laser therapy treatment program. In addition to providing fast-acting pain relief, the ALPHA recommends the correct laser in your laser therapy toolbox to optimize outcomes based on the condition and stage of care of your patient.
Class IV therapeutic laser
Includes proprietary Priority Principle Technology
Pre-set treatment protocols
Recommends the proper laser for patient condition and stage of care
650nm, 810nm, 915nm, 980nm
The ACTIV PRO Family of Lasers
Narrowly target damaged tissue with Super Pulsed technology designed to jump-start damaged cells. This versatile family of lasers includes the ACTIV PRO LaserShower for treatment of large areas; the ACTIV PRO has more power for faster treatment times and more setting choices; and the versatile ACTIV PRO LaserStim™ which saves time for clinicians and patients by getting the exact dose in the exact spot needed using TARGET™ technology.
Includes proprietary Priority Principle technology
Battery operated
Built-in protocols
Super pulsed
The PainAway Laser Take-Home device
Improve outcomes, client compliance, and add a new revenue stream to your practice with the PainAway Laser 2.0 take-home device. Prescribe one of the built-in protocols to lock-in clinical outcomes.
Accelerate patient recovery
Clinician-prescribed
Easy-to-use
Battery operated
Add a new revenue model to your practice