Creating a New Passive Practice Income Opportunity for Podiatrists
For Immediate Release: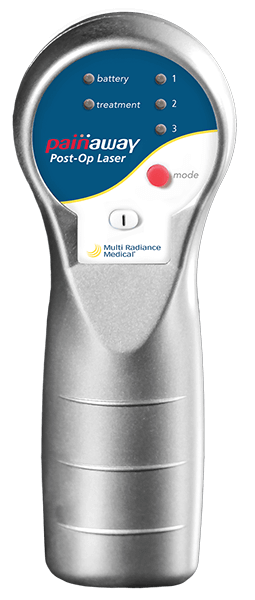 October 14, 2014 – (SOLON, Ohio) – The Multi Radiance Medical PainAway Post-Op™ is a cordless, ultra-portable laser therapy system designed for post-operative pain management and patient care. It consists of a synchronous multi-wavelength, photobiomodulation device that incorporates a Super Pulsed Laser (GaAs 905 nm), and ultra-bright infrared and red LEDs (875 nm and 640 nm) with a mean output of power of 133 mW. The combined wavelengths of the light "core" optimize the biological effects of the entire phototherapeutic window to accelerate recovery and reduce pain.

The PainAway Post-Op™ is safe and easy to use with a simple interface and treatment modes. It offers a convenient 8-hour rechargeable battery and is FDA-cleared for patient use at home under your direction. 

A podiatrist can utilize and prescribe the technology 2 different ways: 

The Purchase to Rent option offers a passive income opportunity to rent to either post-surgical or less mobile patients as an at-home treatment prescribed by you.

The patient Purchase to Own option is an alternative opportunity with patients that would prefer to purchase rather than rent a laser from you. When you become a Multi Radiance Affiliate, you can utilize our website with your own unique affiliate promo code that tracks and provides the patient a discount, and the practice with passive income. This option is convenient for patients, with no inventory required by the clinician.

The PainAway Post-Op™ purchase includes:
PainAway Post-Op™ Emitter
2 Pairs of Laser Goggles
Laser Carrying Case
Operating Manual & User's Guide
Industry best 2-year limited warranty.
Contact us for more information or go to the product page.
About Multi Radiance Medical
Multi Radiance Medical is a global leader in the development and manufacturing of FDA-cleared lasers for drug-free pain relief. This proprietary technology is considered the safest laser on the market and is utilized to treat over 300 conditions worldwide.