Wednesday October 11, 2017
Chiropractors from as far as Oklahoma met at the Multi Radiance Medical headquarters in Solon, Ohio for a knee pain seminar last weekend.
Andy Barlow, DC and Certified Chiropractic Neurologist, presented How to Guarantee Knee Pain Results in a Cash Model Practice to a group of 16 doctors on Saturday, October 7, and shared his methods for relieving patient pain and transitioning to an all-cash practice model.
Dr. Barlow practices at the Chiropractic Neurology Center of Tupelo in Tupelo, Mississippi and he founded the American Functional Neurology Institute, where he hosts a rigorous seminar program that spans several months and teaches chiropractors the principles of functional neurology and how to integrate it into practice.
The knee pain seminar in Solon was just a snapshot of his larger seminar program. The focus of Saturday's seminar was the unique promise he offers to potential patients: he guarantees knee pain results in two visits or he won't accept the patient for care.
That unique promise was the first lesson in the marketing part of the course – breaking through the noise to get attention by offering something that others are not typically promoting.
Other principles that Dr. Barlow emphasized were creating interest and desire, training front desk staff to answer questions about insurance, and handling objections.
Then Dr. Barlow dove into a crash course in neurology, allowing doctors to see the connections between nerves, pathways, and sources of pain – figuring out why someone is hurting and how to fix it.
The group of doctors gathered around as Dr. Barlow walked through the steps of a consultation to evaluate whether or not a patient would qualify for the treatment program, with attendee Paul Constante, DC, as a volunteer. In real time, the attendees witnessed Dr. Barlow diagnose their peer's neurological issues.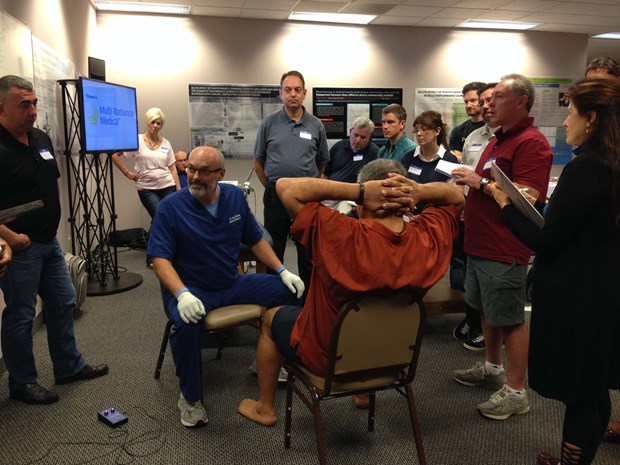 Communicating with the patient during the exam is perhaps even more important than the physical exam. "Active listening" involves repeating the last few words the patient says to build trust and rapport, and asking the right questions leads to finding out the personal reasons why the patient wants treatment.
"Everyone has their own personal, emotional triggers as to why they want to be out of pain, whether it's because they love to play golf, or pick up their grandkids, or ride their Harley," Dr. Barlow emphasized.
After Dr. Barlow worked on Constante's knees and hip, Constante was able to squat more quickly and easily than he was before – an important part of his skiing hobby, which Dr. Barlow uncovered after asking those personal questions.
"I got my knees treated and I could squat to the floor," Constante said. "If it works on me, it'll work on anybody."
After a break for lunch, JT Anderson of Back on Trac and Knee on Trac Systems spoke about how his own back injury experience led him to develop the technology. The Back on Trac and Knee on Trac automated therapy systems safely stretch the thoracic and lumbar spine and knee, relieving pain and increasing flexibility and range of motion.  The doctors tried out the equipment with help from JT and Back on Trac CEO Linda Anderson.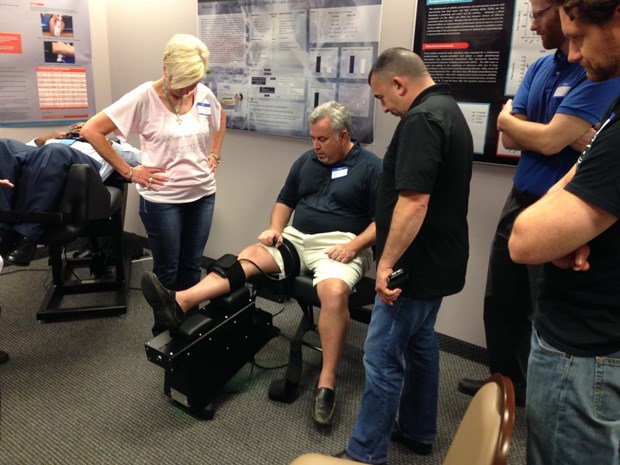 Multi Radiance Medical Vice President of Sales Todd Van Niel followed Anderson with a brief overview of super pulsed laser technology, with help from Clinical Director of Sports Medicine & Rehab John Bruno who detailed treating with acupuncture probes.
After reviewing the report of findings presentation, treatment plan and closing sections of Dr. Barlow's method, the doctors ended the seminar with getting hands-on experience when they broke into groups of three and practiced treatment techniques on one another.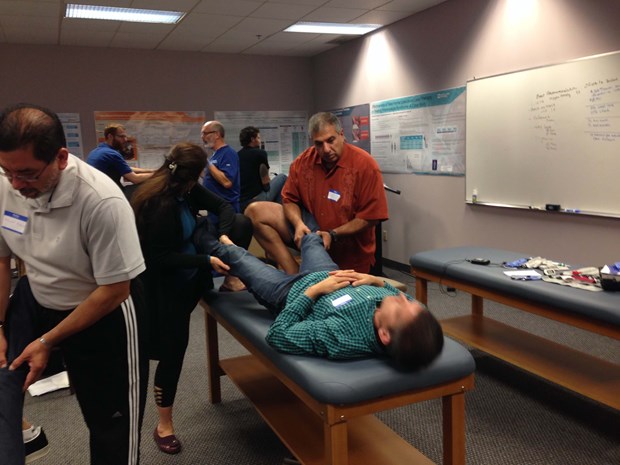 Dr. Barlow enjoyed meeting new doctors and bringing like minds together for the seminar.
"It's important to let doctors know how impactful therapies like Multi Radiance and Back on Trac are, and how they can improve the quality of patients' lives," he explained.
Constante saw the value of Dr. Barlow's model as he finds in his practice that mainstream medicine clashes with the current insurance model.
"It's a lot of work and antagonism dealing with insurance companies, and the bottom line is we're here to help patients," Constante said. "So the faster we can help patients, and they put value in our help, everybody's happy."
And after receiving a personalized treatment from Dr. Barlow at the seminar, will he be at the Tupelo seminar program this January?
"I'll be there. I was going to go skiing that week, but I'll have to change my ski trip."
To learn more about Dr. Barlow's seminar program and sign up, visit www.afniseminars.com.